More and more of us are sitting in the home office during the day. Most of us indefinitely. Working from home can present challenges for some, at least if you do not have the equipment in order.
Is your network stable and good enough?  Does it work well enough even if there are two (or more) in the household who are dependent on running video calls at the same time? And how does the network work with streaming and gaming in addition to this?
Working from home requires that we have a home office that works flawlessly, and a network that has enough capacity for several people to use at the same time.
Like many others, we therefore needed to upgrade our network. We'd used our old Asus AC68 router now for a long time and although it has been working fine, it was time to make an upgrade. An upgrade that both opened up greater opportunities, but also to a system that can be adapted and adjusted as the technology gets better and better.
Ubiquiti's Unifi network system is a series of products that do this exceptionally well. With Ubiquiti, we are equipped to handle not only Wi-Fi 6 (when it is more standardized than today), but also upcoming Wi-Fi technologies.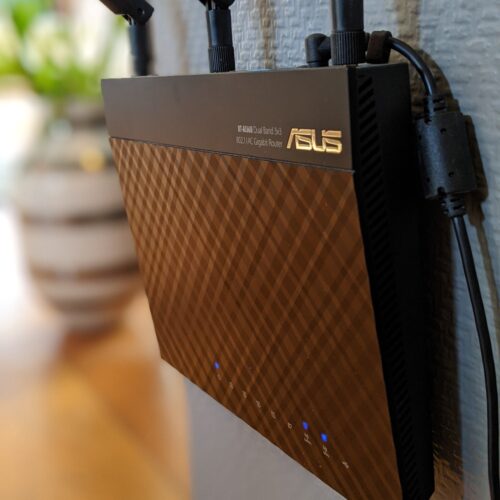 If you have an interest in technology, why are you sitting on an old router then?
In our home, as I said, we have for a long time used a simple router. Recently we have used an Asus AC68 router. It was a period when we used Google Wi-Fi, but since we have some port forwarding rules and a need to have access to some applications outside the home network (ergo we needed DDNS), eventually we had to go back to our Asus router. Although we were happy with this router, there were still some functionality that we needed, that the Asus router didn't have. The coverage was not good enough and it was more and more often that we had to restart the router to be able to connect to it.
Why did I let it go so long before I switched? Well, cost is one thing here. It's no secret that if you want to have a good network at home, it will cost you. Of course, this applies not only to networks, but also many other things. Quality costs, and Ubiquity is no exception.
The Unifi system from Ubiquiti has many different products and combinations you can choose to go for.
They have a network router that meets the needs of the vast majority, namely the Ubiquiti Dream Machine. You can buy one Ubiquiti Dream Machine, and you have a ready-made router that has most of the features you need.
What you miss by going for a Dream Machine is the flexibility and scalability that you can get by going for some of their other products.
One possibility is to buy the different components separately. So instead of buying a traditional router, you buy different components with different functions.
A classic network router is basically several products merged:
A gateway

A software

A switch

An access point
If you want the flexibility that Ubiquiti can offer, it requires that you purchase these parts separately.
Gateway
Ubiquiti's gateway has 3 gigabit ports, 1 WAN port (to the modem) for the external network and 1 LAN port for the internal network.
Software
You need a controller software for the network. A place for all the settings you can change, and an intuitive place where this can be stored. Worth mentioning is that this is possible to have on a dedicated server or PC, but to make it easy for you, Ubiquiti has this in a separate product, the Cloud key.
Switch
If you need more LAN ports than the ones in the Gateway, it is advantageous to buy a switch. Here there are many to choose from. It is a good idea to choose a switch with at least 1 PoE port, so you do not need to give the Cloud key a separate power connector, as it can get power through PoE.
Access point:
One of the things that separates a more professional approachable network system from a more common one is that the access points are sold separately, instead of being part of the router. This means that for every generation of Wi-Fi that comes, you can buy a new access point, instead of buying a new router.
For each category of products, you have several choices. It is best to buy parts that are tailored to your use. There are several different switches, depending on whether you need many LAN ports, and possibly more PoE ports (if you have many surveillance cameras for example). You can choose to go for several different access points depending on what need for stable Wi-Fi you have and how large an area you want to cover. There are mainly 2 different Cloud keys, gen1 and gen2. Gen2 also comes with hard disk space if you want to use this as an NVR (surveillance system).
For a household with 2 adults and 3 children, the following is enough:
Why Unifi
The benefits of going for Ubiquiti's products and specifically Unifi are many. It's one thing that if you have an interest in technology and gadgets then it's just something fun to play around with. And having so many different settings to adjust and configure with… well it's just fun – the more the better! However, it should not only be fun, it must have some other values ​​as well.
The performance
As I said, stable internet is something we are totally dependent on. In most homes, there is an area or more where you have slightly poorer coverage of Wi-Fi than in the rest of the home. Most people also experience from time to time having problems connecting and therefore have to run a restart of their router. Ubiquiti's products have consistently been at the top of performance tests and their Wi-Fi is no exception.
The cost
As I said, having a good network is not cheap. And this applies to everything. If you want something that is good, it will cost you. However, Ubiquiti's cost model differs from some of the others. The products themselves are not more expensive when compared to similar Cisco, Linksys or Zyxel products as an example. But they also have no monthly license fee, or any other type of subscription required, that some others have.
The ease of use
Where Ubiquiti really shines is in their ease of use. It is very easy to set up, it is very easy to get started and it has all the features you need to make your network as professional as you want it to be. All in a nice and modern user interface. In addition, you have a mobile app from where you can control your network from, you have chat support function directly in the Controller platform, and you have full control of your traffic with great opportunities for reporting.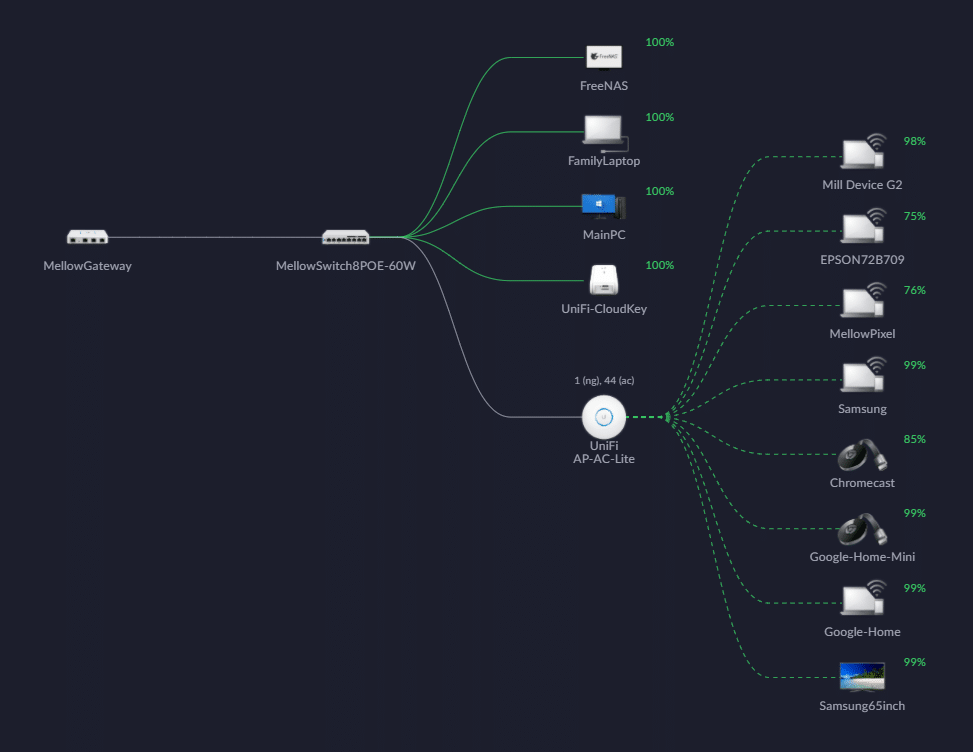 Do you need all this?
Yes. Period. When you have an above-average interest in everything that is technical, you need to have the opportunities offered by a more professional system. This is what the Unifi system offers. I know we'll need to upgrade to Wi-Fi 6 in a short time, and then it's a simple matter to just swap (or just add) an access point that supports this. Ubiquiti recently released 2 Wi-Fi 6 access points, that are now available in their store.
The definition of a good product
Products, whether it is software or hardware (or games for that matter), which are based on the premise that it is easy to get started with, but which take a long time to master, are a good product. There are several such examples on the market.
You get started in a simple and straightforward way, but the more you tinker with it, the more you learn to navigate the user interface, the more familiar you become, the more functions and greater opportunities open up to you. Only your own knowledge sets the limits.
This is the definition of a professional and good product.
The future
Ubiquiti take networking into 2021 with their AR feature. You now have the opportunity with an app on your mobile, to see where your different cables go via an augmented reality view.
This is something most people obviously do not need in a home network, but for those who are a little more interested in technology, and not least for those who sit at 8 or more LAN ports that go around a home, this can be something that simplifies for example any troubleshooting.
Summary
In today's home office revolution, there is a greater need for a good and stable network than before. If you are you tired of places around your home where there are dead Wi-Fi zones or that you sometimes can not connect to your network from some devices, you need a renewal of your network.  At least if you are a prosumer, or above average interested in technology.
The Unifi system from Ubiquiti is your best choice to never complain about the network at home ever again. With a modern and professional user interface, a simple setup and affordable products where you get all the flexibility you need, there is no need to choose anything else. You know you are secured for the future with Ubiquiti.
If you need any help with the setup of Ubiquiti, we leave that to those who are more professional than us. Crosstalk solutions on youtube has many videos about Unifi, but especially this video explains the whole setup in a very simple way. 
If you have chosen Unifi, or another system for that matter, we would like to hear from you.